23E Studios is proud to announce
Earthbound Moon
is landing! The world's first noncontiguous sculpture garden landed its first artwork a mile outside Bledsoe, Texas!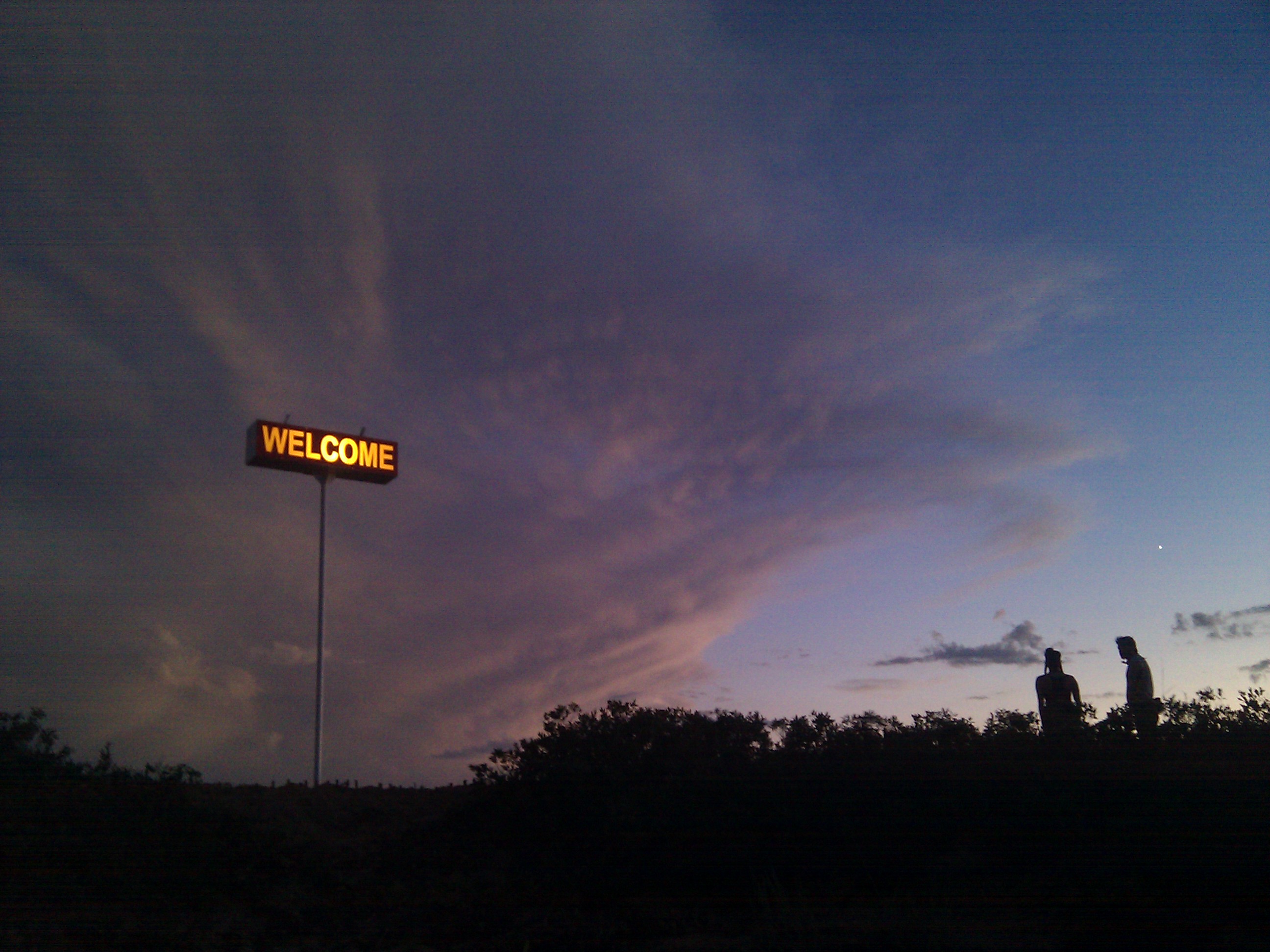 23E Studios recently began the paperwork to file as a 501c3 non-profit arts collaborative. We are doing this to broaden the scope of grants and in-kind donations we can receive for producing films and artworks. The impetus is our biggest project to date,
Earthbound Moon
(EbM), a non-contiguous sculpture garden that covers the face of the Earth. Our first artwork was installed in Bledsoe Texas in September, 2010. We commissioned the artist
Heidi Hove
to create it. She dreamt up a giant, solar powered "WELCOME" sign in the desert. We're proud to say we got it up on time and only a little over-budget. We also lectured with Heidi at
Texas Tech University
, as part of the
Landscape As Knowledge
lecture series, and we lectured to the Master Class in Kinetic Sculpture at TTU.
Skye Thorstenson
's website/film
S/Z
is live! This film is an ongoing lifelong re-enactment, and is exploding its non-linear narrative across the intertubes.
The release of
Nightmare City
's amazingly wonderful DVD,
The Pixie Troll Witch Hour, Into the 3am Void with Carol-Anne & Keturah, The Princess Diana Episode June 14, 1996
. It's brilliant. Contact 23E for details on acquiring your very own copy for free (+ s&h).
We have also begun pre-production on the film,
Vile Dead
, a zombie love story, though we don't expect to shoot any scenes for that in Copenhagen. Producers Keturah Cummings and Lee Pembleton are working on a script and budget, with production planned to begin in Spring 2010. We expect many of the crew from
Disembody
to be back for this bloody extravaganza!
Disembody in post-production
Our second film, Disembody, was a big success at the Morgellon Theater, where it's run was extended an additional week due to popular demand.

The Morgellon is now de-installed, and 23E will be getting onto the next phase of Disembody, capturing all the tapes (primarily completed already by the always productive Jonathan Grindstaff), editing them into discreet chunks, re-encoding them, uploading them and tagging them. That's right, we have close to a hundred hours of footage to upload. And not just upload, but upload in such way that it is useful to any soul who might have an interest in using the footage, be it a school documentary program, an art historian, or a sociologist (one member did compare the project to the Stanford Prison Experiment, after all.)
All the footage is under a Creative Commons Attribution-Noncommercial-Share Alike 3.0 United States licence. With any luck more art will grow out of these seeds from Disembody.
As well, over the course of the next year, many of the crew are hoping to create new edits of the film. And we will begin sending it to festivals and distributors.

23E Studios was founded as part of a site-specific art work for Fringe Exhibitions.// We are a small movie studio, producing documentaries, art films, and perhaps the occasional zombie bio-pic.// We are based in Los Angeles, California.// We currently have one film in production, S/Z, and another in post-production, Disembody.// Please feel free to look around, and drop us a line if you want to chat, or be involved.